Vilte Fuller
Strangers by the Side of the Road
September 16 - November 4, 2022
Good, good, she's rewarding her dog verbally, 2022, oil and acrylic on canvas, 66 x 50 inches
167.6 x 127cm / Photo: Steven Probert

Polina Berlin Gallery is pleased to present
Strangers by the Side of the Road,
an exhibition of new paintings by Lithuanian-born, London-based artist Vilte Fuller. On view September 16 through October 15, 2022, this marks the artist's first one-person exhibition in the United States.
As a girl, Fuller spent summers in the remote Lithuanian countryside. "There was nothing there." In order to fill the space with something, she and her cousin would make up stories. They would also watch American movies in which aliens appear in fields of corn. Now, when Fuller paints, she first paints the canvas black, like a child looking into the dark, waiting for the afterimages burned into her retina to materialize into figures. From there, she conjures the outlines, in white, of reference images generated digitalIy, the kinds of faces and forms an AI will draw out of the well of our collective imagination. Every successive layer of oil that Fuller applies makes the painting lighter and lighter and lighter; it is impossible not to think of irradiation when faced with Fuller's work—of a blinding nuclear dawn that leaves us with something between a memory and a hallucination.
The resulting paintings are glamorous hellscapes that lie in the uncanny valley between dystopia and nostalgia. They have a Frankenstein quality; indeed, when Fuller doesn't have enough canvas for a big painting, she simply sews smaller pieces together to produce a sutured skin-like surface, like a patchwork quilt you'd rather leave in your grandmother's parlor, surrounded by gruesome porcelain knickknacks and pickled vegetables. Inspired by popular culture, particularly Western film, television, and video games, her Lithuanian heritage and the country's folklore, and Eastern European cuisine, Fuller's practice produces images that are both historical fictions and possible futures, as much insightful dissections of our cultural imagination as they are hypnotic figurations of human psychology. She explores the Eastern Europe envisioned by the Western media and artificial intelligences alike, those landscapes visited in video games, on television, and in newspaper headlines. The Chernobyl exclusion zone, decaying Soviet brutalist architecture, superstitions and conspiracies —these are liminal territories of indeterminate coordinates that her paintings inhabit, haunted by the ghosts of genre, pulsing with what we do not know. On a Sunday in Lithuania, she tells me, parents might bring their children to a horrific sculpture park called "Hill of the Witches"; Fuller's paintings, too, take us to a place that is both far, far away and all too familiar.
In
Strangers by the Side of the Road,
miasmas of blue and green roll over abandoned highways, moonlit waters, and orange sunsets. Besides being the color of aliens and pickles and toxicity, green—a fact Fuller delights in—is the color of paintings worth 25% less than average at auctions; it is also the color of the Soviet-era prisons, hospitals, and apartment interiors that, in Lithuania, have long since been painted over. In fact, the distended faces that stare out at us from deep within that color, in Fuller's work, are more or less what one would imagine a prisoner, patient, or housewife to daydream into a wallpaper—friends and enemies grown strange, a beautiful woman and her dog, appearing, all of a sudden, like storybook characters. Looking at the paintings is an experience of dimensional polymorphism: of surfaces swelling, or maybe of objects being flattened into smears of paint. Indeed, there is a strong sense of the sculptural on Fuller's canvases; the artist's inspirations for
Strangers by the Side of the Road
included alien heads carved out of jade and the chill-inducing, dead-eyed bootleg teletubby plushies given to children in Post-Soviet countries.
Despite or because of all their overt ghoulishness, Fuller's paintings retain a magnetic charm, a kind of child-like good humor that comes from the work of an artist who loves and cares for our nightmares as well as our favorite movies, who takes the time to re-introduce us to them. "Here we are," the paintings seem to say, "don't you like us?" And we do. I thought perhaps the people in the paintings might be evil, or sad, or sick — no, Fuller says, "they just exist."
- Olivia Kan-Sperling
Vilte Fuller was born in 1996 in Klaipeda, Lithuania, and lives and works in London. She graduated from the Glasgow School of Art in 2015 with a degree in
Fine Art: Painting and Printmaking
. Fuller's work has been included in exhibitions at Niru Ratnam, London; and at superzoom and Galerie Hussenot, Paris.
Press Release
Cultbytes- Vilte Fuller Brings Grit, Glam, and Horror to Life at Polina Berlin Gallery

Hug me please, 2022, oil, acrylic and thread on canvas, 23 x 30 inches
58.4 x 76.2cm / Photo: Steven Probert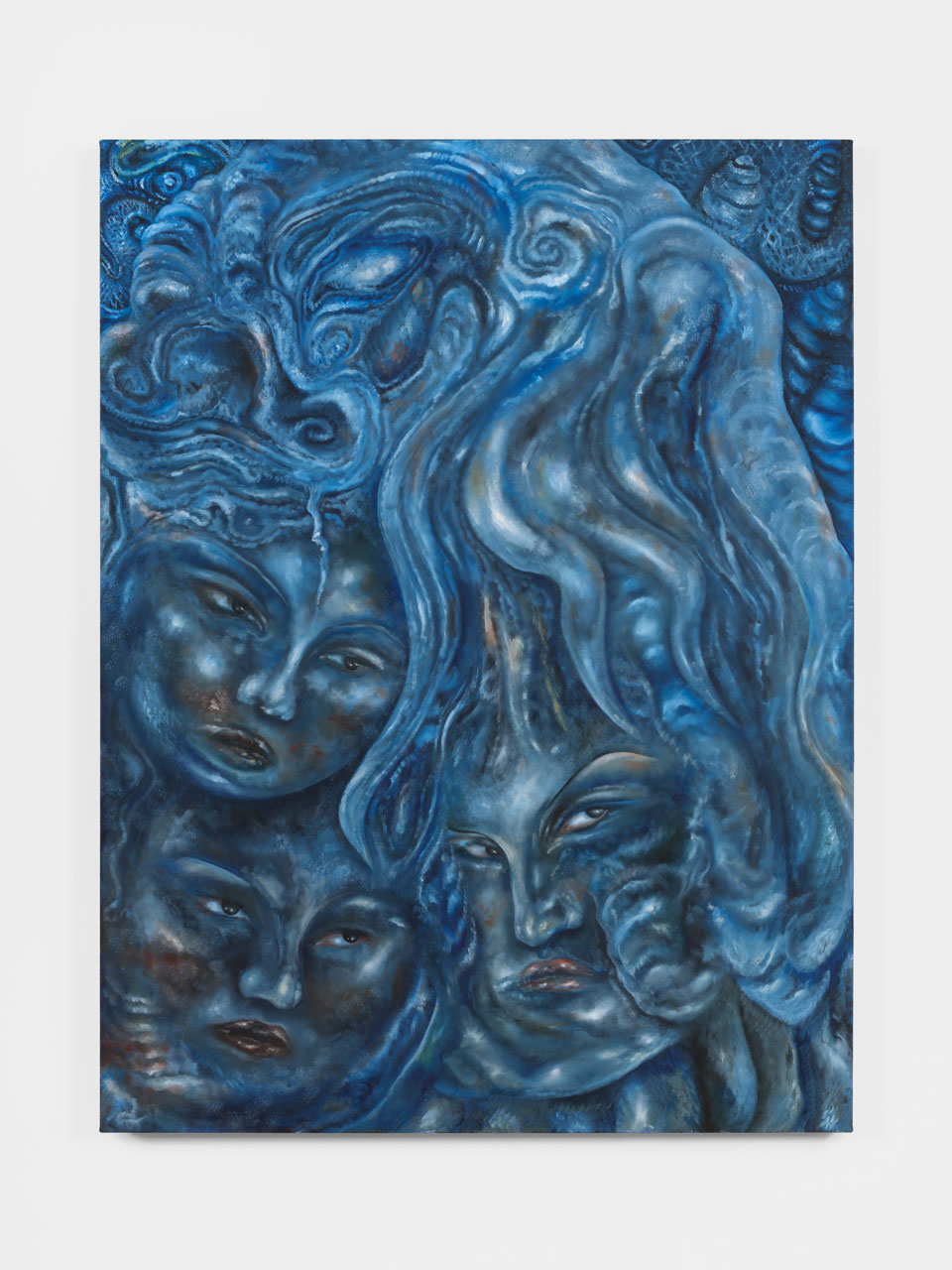 Frozen fish market on the A1, 2022, oil and acrylic on canvas, 66 x 50 inches
167.6 x 127cm / Photo: Steven Probert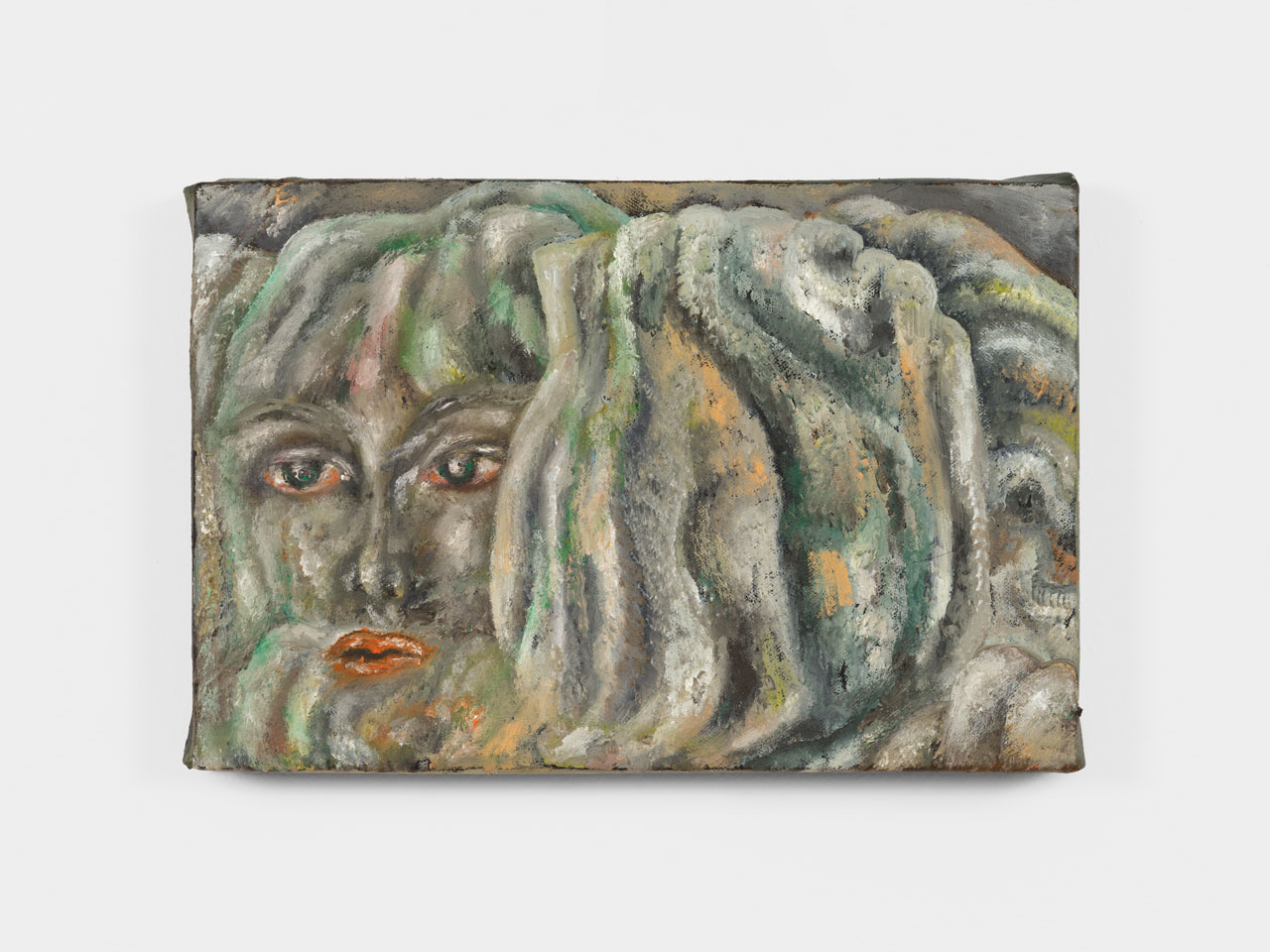 'Kavinė Valgykla' reviews are good on TripAdvisor, 2022, oil and acrylic on canvas, 8 x 12 inches
20.3 x 30.5cm / Photo: Steven Probert